Microsoft Dynamics Business Central
Microsoft Dynamics 365 Business Central (D365BC) is an enterprise resource planning (ERP) system from Microsoft. The product is part of the Microsoft Dynamics family, and is the successor product to Microsoft Dynamics NAV, Microsoft Dynamics GP, and Microsoft Dynamics SL. It shares the same codebase as NAV and NAV's C/AL language is being phased out in favor of the new AL language.
The product is primarily a web-based Software as a Service solution accessed via dynamics.com, though presently there is an on-premise version available, which includes the option to use the NAV role-tailored "thick" client.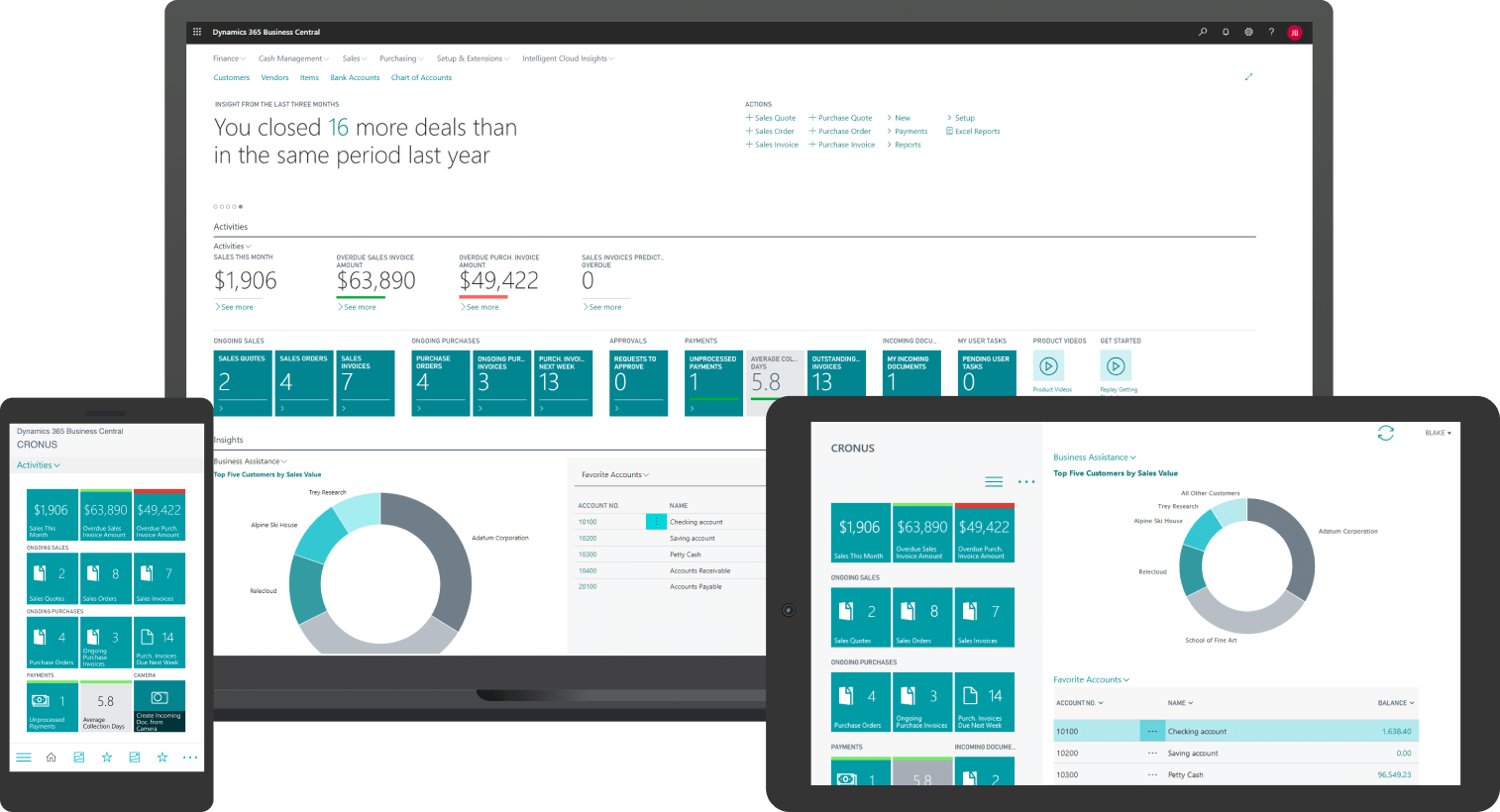 Microsoft Dynamics 365 Business Central is primarily based on the codebase for Microsoft Dynamics NAV, first published as Navision, which Microsoft acquired in 2002.
In 2016, Microsoft announced the creation of Dynamics 365 — a rebranding of the suite of Dynamics ERP and CRM products as a part of a new online-only offering. As a part of this suite, the successor to NAV was codenamed Madeira.
In September 2017 at the Directions conference, Microsoft announced the new codename "Tenerife" for this product, which would be released as "Dynamics 365 Finance and Operations Business Edition", while the successor product to Dynamics AX would be called "Dynamics 365 Finance and Operations Enterprise Edition".
On April 2, 2018, the Business Central was released publicly and plans for semi-annual releases were announced.
With the October 2018 release, Dynamics 365 Business Central is available in the cloud, on-premises, and in hybrid deployment. The last release of Dynamics 365 Business Central (October'19 Release) include new many features and a lot of technical and functional improvements; the currently version is 15.0 October 2019's Release.
Microsoft Dynamics 365 Business Central delivers integrated functionality to provide support for:
Financial management
Supply chain management
Relationship management
Human resource management
Project & Resource management
Warehouse management
Service Order Management
Manufacturing
Microsoft Dynamics 365 Business Central is sold with three license types also known as subscriptions with fixed prices per user per month:
Essentials
Premium
Team Members
Dynamics 365 Business Central Essentials:
Financial management
Supply chain management
Relationship management
Human resource management
Project & Resource management
Warehouse management
Dynamics 365 Business Central Premium:
Everything in Essentials (Premium license include all modules existing in Essentials license)
Service Order Management
Manufacturing
Microsoft makes available to customers and partners the ability to utilise RapidStart Services to help setup a new company quickly. You can use the following components to speed up your company setup:
Configuration wizard
Configuration worksheet
Configuration packages
Configuration templates
Configuration questionnaire
Reference from wikipedia, For more information